Born William Lee Apostol, October 3, 1992, fans have come to know Apostol more commonly by his stage name: Billy Strings.  The history of his name, like most things for Billy, involves family, guitar picking and eventually a live gig.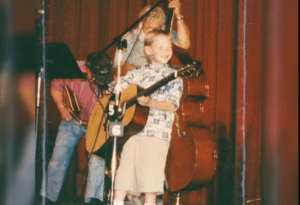 Similar to his stage name holding personal significance, Billy's given name does as well.  "I was born on my grandpa's birthday, so they named me after Grandpa Bill," Strings told Northern Express in 2012. Grandpa Bill was a stock car race driver with his number 33, a number that has personal significance for the family, and also the source of Billy's famous prison guitar.
As a child Strings was surrounded by music, most commonly picking parties at his house with his father, Terry Barber, at the center.  Strings recalls how he used to sit beside his father, strumming guitar, and soaking in the songs but also the experience of entertaining friends with music.
"When I was little– about six years old– you'd see me sitting there next to my dad and all of his older friends trying to pick along with them," Strings told Wide Open Country magazine in 2017.
It was at these picking parties that Billy's Aunt Mondi noticed little Billy strumming along next to his dad. 
"My Aunt Mondi, she looked over and gave me that nickname one time at a party. She said 'Look at little Billy Strings trying to hang in there,'" Strings continued in 2017.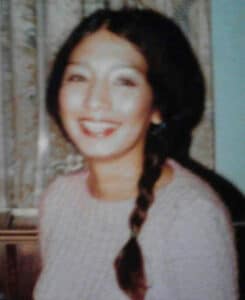 Strings describes his Aunt Mondi as a real spiritual, hip Indian lady, who was the first to give him what would become his well-known stage name.  He spoke numerous times early in his career about how her vivacious life impacted him.  
Years–and many pickin' parties–later, Aunt Mondi was battling an illness and Strings recalled how as a teen at the time, he and other family went to visit Mondi, who always loved music.
"And it wasn't long before the guitars got busted out, because Mondi always wanted to hear us play," Strings told WBUR in 2021. "Man, it was just this crazy thing."  With substances and friends abound, Mondi enjoyed a final picking party with her family but her spirit and the nickname live on.
"She died shortly after that night," Strings told WBUR. Later when Strings started playing local open mic nights at age 17, he recalled needing a stage name. "When I went up to the chalkboard to write my name up there, I wrote Billy Strings in her honor."
And it has stuck ever since.