"You need to know this."
Like most kids, Billy likely heard this many times, but he specifically recalls two integral moments in his early listening career.  His father, Terry Barber, called him over from across the trailer and said, "listen son, this is important; you need to know this." The first time Billy learned about David Grisman; the second time was Black Sabbath.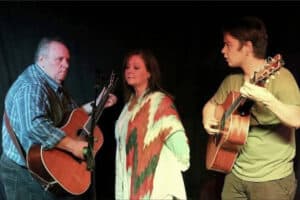 In numerous interviews dating back to 2012 and all the way up to the present, Billy has always been clear that his biggest influence, and the man who taught him to play guitar, is unequivocally his father, Terry Barber.
"My dad taught me how to tie my shoelaces and put strings on the guitar all in the same week," Strings remembers in a 2017 Jambands interview. "He was always the life of the party… I wanted to be just like him."
Barber raised Strings and his older brother, Aaron Apostol, after their biological father died of an overdose.
"It's such a tender thing, this man stepping in and raising me and my brother, because he loved my mother and us," Strings told NPR.
Barber's musical roots run deep in the family. The singing and playing that would become Billy's foundation, was nurtured early on by Billy's grandfather, with whom Billy shares his birthday (October 3rd). 
Grandpa William was a little musical and "played with his thumb till it turned black and he'd sing some classic rock and country–for example 'Angie,' 'Don't Call me Darling, Darling.'"  Grandpa loved Terry's singing and playing and would often ask him to go all night, Billy told eTown in 2018.
Fast forward back to that trailer in the late 1990s, a young Strings, rushed over to his dad, thinking he may be in trouble.  Little did Strings know that Barber would introduce him to a musical hero, David Grisman, whom Strings would tour with years later in both 2014 and 2017.   And Grisman was one among many whom Barber exposed his young son to.
"Yeah, and it's more than just the picking. He can sing it, he can play it. Like the truest of the original thing. Doc Watson, Bill Monroe, Jimmy Martin, Flatt and Scruggs, Larry Sparks, The Stanley Brothers. All that early bluegrass is what I heard growing up," Strings told Jambase in 2018.  
But it wasn't the well-known Bluegrass giants alone who guided Strings.  Billy often recalls those childhood days fondly, punctuating how his dad was much more than a father—he was also Billy's hero, best friend and mentor.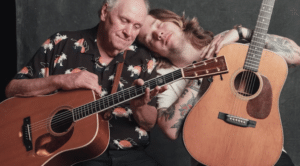 "I wanted to be just like my dad.  At a young age, we'd have people at the house pickin' and singin'…and every once and a while I noticed my dad in the kitchen and everyone standing around with a beer and singing along.  He really is the life of the party.  Everyone is so glad and there's so much joy.  And I thought, my dad is incredible and I wanna do that," Strings told eTown. 
The next time Barber called for young Strings in the trailer was scarier, Billy told eTown.  This time Dad called him over and said 'son, you need to know this'—and it was Black Sabbath.  While a lot heavier, especially for a youngster, the music has stuck with Strings, as evident in the diversity, depth and breadth of his music catalog.
So whether Dawg powerhouses like "E.M.D." and the Dangers' "Key Signator" or Black Sabbath's "Planet Caravan," those childhood moments that Strings shared with his father aren't static in the past but rather living, breathing memories that still inspire Strings and his playing to this day.