In addition to those two integral moments when Terry Barber taught his son about David Grisman and Black Sabbath, Strings has recalled another moment when his father guided his playing and the course of his life.
As Billy told WBUR in 2021, when he was six, he and his dad, clad in just their underwear, were playing Doc Watson's rendition of "Beaumont Rag," an old traditional Texas fiddle tune. After multiple hiccups playing the chords, a frustrated Strings says he told his dad to stop and let him listen to the melody. Instead of trying to follow along with Barber in the moment, Strings just listened to what his dad's guitar was saying.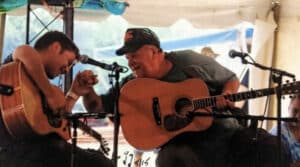 When the time came to try it once more, Strings — now equipped with the melody in his head — "frickin' nailed it," Strings told WBUR in 2021. Barber "was so proud, he just leaned over and squeezed my little hand."
Strings still plays "Beaumont Rag" with his band and while picking with his dad is more of a rarity these days, Strings fulfilled his long-time dream and recorded and released an album with his dad in 2022: "Me / And / Dad." 
Since most of what Strings learned until about age 7 was Doc Watson, Bill Monroe, Flatt & Scruggs, The Stanley Brothers etc. the track list is full of these traditionals and bluegrass classics. 
"Since I've been nineteen, I've been on tour, I haven't looked up," Strings told NPR, "and I'm thirty now, and over those years, I've gotten a little scared about, 'well what if I never picked my head up for long enough to make a record with my dad?' That's terrifying, you know?" 
Barber saw early on that little Strings had a natural gift for guitar, even if only a toy one.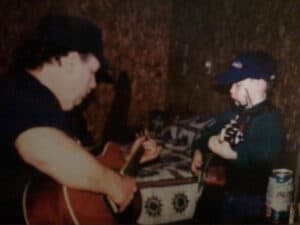 "When he was in his highchair, and I had a friend over and we were playing one day, I looked over and he's right in rhythm with his little wrists," Barber says. "And I said, 'Wow.' It just projected from there."
Fans at a live show can often hear Strings warmly recall these childhood memories and their lasting positive impression on him. Whether that moment in the living room during "Beaumont Rag" or another, Billy always cherishes his father's love and guidance.
"And that moment has pushed me to this day," Strings says. "I still think about that. Like the other day when we won the Grammy, who did I call? I called my dad right away. Look dad, you taught me well."