Entertainer of the Year (2021 & 2022).  Guitar Player of the Year (2019 & 2021). New Artist of the Year (2019).  Song of the Year — "Red Daisy" — (2022).  Momentum Awards' Instrumentalist of the Year (2016).
Billy Strings' relationship with the International Bluegrass Music Association (IBMA) is long, rich and one that continues to unfold to this day, evident in his current 2023 IBMA nominations: Entertainer of the Year, Instrumental Group of the Year, Album of the year w/ Terry Barber — "Me / And / Dad," and Collaborative Recording of the Year — "For Your Love" w/ Michael Cleveland & Jeff White.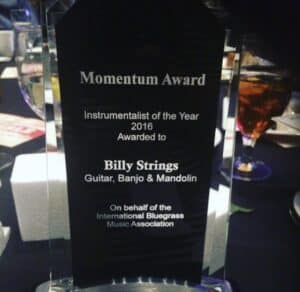 Every year the IBMA nomination process focuses on "recognizing outstanding achievement and pioneering effort in bluegrass music," according to its website. 
Strings was first recognized by IBMA in 2016 for their Momentum Awards, receiving the Instrumentalist of the Year award. The Momentum
Awards recognize both musicians and bluegrass industry professionals who, in the early stages of their careers, are making significant contributions to or are having a significant influence upon bluegrass music.
"It's a huge honor for me to be included in this amazing community of musicians," Strings posted on Instagram upon winning the award.  
Upon release of his first full-length album, "Turmoil and Tinfoil," Strings would tour relentlessly in 2017-2018. He would once again pop up on IBMA's radar in 2019, a momentous year capped by the release of his second album, "Home," which went on to win a grammy.
Strings also took home the New Artist of the Year award as well as Guitar Player of the Year.
"We are grateful beyond words, and couldn't be happier to have "Home" out for the world to hear," Strings said on Instagram just before starting the fall tour with two nights at Revolution Hall in Portland. "Thank you, thank you, thank you for all your love and support.  It starts and ends with YOU. We love you."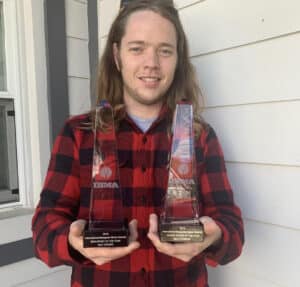 Despite a global pandemic, Strings and his team pushed forward adapting to the new live music landscape, even winning Pollstar's Breakthrough Artist of the Pandemic in 2021. Building on this momentum Strings moved into larger venues and IBMA noticed.
In 2021 and 2022 Strings won the much-coveted Entertainer of the Year award.  Additionally, the Jarrod Walker (mandolin) and Christian Ward (fiddle/songwriter) penned "Red Daisy" took home SOng of the Year for Billy Strings.  Finally Billy once again won Guitar Player of the Year in 2021.  
"Congratulations to [Walker & Ward] for winning Song of the Year with Red Daisy!!! I also want to say thank you to IBMA and all the voters for naming us Entertainer of the Year," Strings posted in September 2022. "We're gonna keep our sticks on the ice."
The 2023 IBMA Industry Awards will be held Thursday, Sept. 28 at 11:00 ET in Raleigh, North Carolina.