Giggles roll across the lawn as kids run past an elderly couple at the fountain ambling toward the makeshift stage on a porch, where familiar old-time bluegrass fills the air.  After gentle, timed applauses, the guitarist suddenly jolts the crowd as he thrashes his head with his fingers blazing across the fret board.  The audience quiets, awed by the young musician's raw acoustic energy and electric stage presence.   
On the one hand this seems out of place at a bluegrass show.  On the other hand, it captures the best, raw energy of the genre at its finest.  Whether Billy playing solo at open mics, in a duo with Don Julin or as the leader of his band in its various incarnations, every act has always stood upon the electricity and primal authenticity of Billy Strings' stage presence.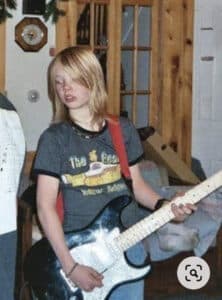 So where does it come from?  It's not just his raw talent and evident years of practice.  There's more underlying his fire and fans can look to Billy's early teenage years to understand how metal left a lasting imprint on Billy, his listening and most clearly his stage presence. 
After many years sitting across the couch from his father Terry Barber playing acoustic guitars, "he got a Squire Strat electric guitar at the age of 11 and played blues and classic rock tunes by the likes of Jimi Hendrix, Johnny Winter and Black Sabbath"  Northern Express Magazine wrote in 2012. "Then came his heavy metal period until the age of 16, followed by some time in 'a poppy band playing stuff chicks really love — sappy, but with an edge.'"
Having grown up surrounded by older folks playing older music, Strings decided he wanted to play music with kids his own age.  That's when he turned to other styles of music and was in a heavy metal band called Groove Tongue, Strings told Interlochen Public Radio in 2012.  As a teen, Strings played in Ionia metal act, To Once Darkened Skies (Billy here age 15 at a local church).
Strings carries his various experiences with him and they inform his playing to this day. Whether songs dating back to the early Scotch Irish migration or his personal favorite Canadian death-metal act, Cryptopsy, Billy has always been clear that he keeps his ears wide open—even if that means head banging at a bluegrass show.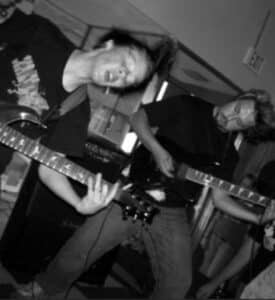 "Yeah, performing live. I never learned how to perform in a bluegrass band. I learned how to perform in a metal band," Strings told the Bluegrass Situation in 2021. "I learned music by playing bluegrass when I was a little kid, but by the time I was doing it on stage, it was in a metal band — we were headbanging and running all over the place — and I still can't help but get into the music like that. I can't just stand there and play."
So when Billy plays to folks on a lawn, at a classic theatre, in an arena or a stadium, those years cutting his teeth in sweaty gymnasiums and stale basements thrashing his metal chops, continue to light a fire in each stage performance.  And it can be one of his genre-bending hits or a traditional bluegrass tune, but at any moment at any of his live shows folks are sure to find Billy romping all over the stage, banging his head, waving his guitar and beaming a wide smile of awe and appreciation to his fans.