Bluegrass is a story of music and family.  Picking and partying.  From the pews of the Mother Church (Ryman Auditorium) in TN to the dusty parking lots of Bluegrass Festivals across the country.  Stringed instruments, often acoustic guitars, fill the air and have for centuries.
So it may come as a surprise when Bluegrass star, Billy Strings, often dubbed the future of bluegrass, calls an electric guitar his favorite.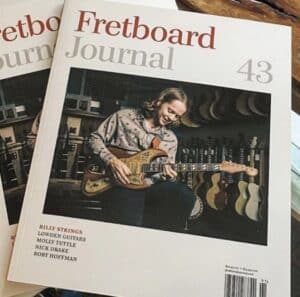 "It's my favorite guitar…and it was made by my grandfather 50-some years ago," Strings told the Fretboard Journal in 2019. 
Billy is referring to his beloved grandfather's guitar, dubbed "Prison Guitar" because of its rich back story.  Gifted to Strings by his Uncle Bill in June 2018, Strings immediately began restoration work with luthier Dave Johnson of Scale Model Guitars.  By October, Prison Guitar would once again see the light of day, popping up frequently in late 2018-2019 usually when Billy sat in with another band. 
The story behind the guitar is one of family and music, making it clear why a bluegrass star would cherish the electric instrument.  Once Dave Johnson at Scale Model Guitars finished the project, Billy provided some context.
"After many years of living in a closet in pieces #prisonguitar is alive and well," Strings posted to Instagram in 2018. "Made by my grandfather Bill Lee in 1960-62 while serving time in Michigan State Prison (Jackson).  This guitar is a piece of my family's history and a part of my grandfather's legacy."
As in any family, heirlooms often tell—and hide—many stories.  After initially recalling the guitar, Billy was taken for an emotional journey through his family, and more specifically his grandfather's, history.
"My family's a rough Bunch," Billy Strings explained over the phone between gigs to Fretboard Journal in late 2018. "'They were drinking, racing cars and doing wild shit. I've got some outlaw blood.' Billy's not exaggerating. Among other things, his grandfather (and namesake), Bill Lee, was known to run moonshine from Mooreland, Kentucky, to Lansing, Michigan."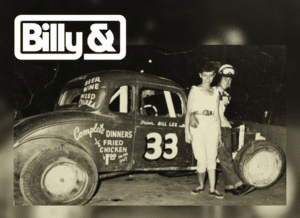 Also on the road non-stop decades later—playing music, not running Shine!–Billy began wondering what happened to that mythical guitar he used to stumble on in Grandma's closet.  Naturally he asked his mother Debra Apostol.
"'Hey, didn't Grandpa build a guitar?' She said, ' Yeah, he built a guitar while he was in Jackson.'…I called around and I figured out my Uncle Bill—there are a lot of Bills in my family—had the guitar."
It was never too long before seeing his Uncle Bill at a gig and in 2018 Uncle Bill gave Strings all of the pieces of the Prison Guitar that had been sitting in closets for decades.  Now Strings got to work with luthier Dave Johnson (Scale Model Guitars) unveiling splashes of brilliance in Billy's grandfather's guitar work.
"'It was made out of a table top,' Strings explained to Fretboard Journal. 'That's what we think, anyhow. It's made out of cedar. The body itself is made out of a table top and the neck is out of the leg. The fretboard that was on the guitar was off of an early '60s Gibson acoustic guitar.'"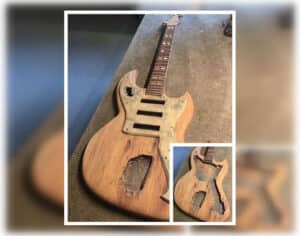 Strings and Johnson soon learned that grandpa William Lee truly had a gift with wood.
"'It's really crazy and it's really well done. I knew my grandpa worked with wood. I knew he did drywall and worked on houses, but I never took him as a luthier.'"
As the restoration project was winding down, Strings began to recognize the significance of breathing new life not just into the guitar but into his grandfather's story.
"One of the main goals in this restoration is to maintain the work that my grandfather did in prison."
And it's understandable why.  It isn't just the guitar and its uniqueness; it's also that during each step of this process, the old stories and memories that Billy once heard and saw as a kid are now the stories he is telling himself.
"'My Uncle Harry, who was around at that time, remembered that the knobs and all the stuff on that guitar were brought in[to prison]  from my grandma," Strings told Fretboard Journal. 'My great-grandpa worked at the GM plant at the time, up in Michigan, so the volume knobs and everything that was chromeplated came off an old Oldsmobile radio.'"
Billy continued to blow dust off these family stories, especially in late 2018 and through all of 2019, when Prison Guitar once again rang in the air at many live shows. Perhaps most noteworthy is its appearance on the title track of Strings' 2019 Grammy-winning album "Home."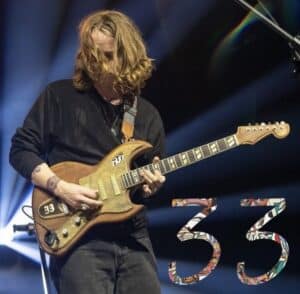 "Also, for my electric guitar solo on [Home], I'm using a guitar that my grandfather made in prison in the early '60s that I just restored" Strings told Relix Magazine in 2019. "The guitar had been sitting in my grandma's closet for years and it was in pieces. It wasn't functioning, but I had it fully restored, and it's a killer guitar now."
Grandson William Lee Apostol humbled by a Grammy and fanbase of adoring fans, now writes the next chapter for Prison Guitar in his family's history.
"The guitar is full of mojo. It's like a brand new guitar now, but it's old. It's been sitting in my grandmother's closet for years and years. It's new, but it's old. And the guitar has just opened up so much more of my family history."
So while it may not be an acoustic instrument, the electric Prison Guitar hand made by Billy's grandfather, William (Bill) Lee, fits tightly into Bluegrass and guitar history with its family roots and fast licks. 
"'This guitar was made by the same person who made my mother,' Strings said. 'Does that make the guitar my aunt or uncle? In a way, I'm sort of made from this guitar. It's really weird.'"