Many fans in 2023 immediately associate Billy Strings' song "Thirst Mutilator" not just with his early EP but also with his original Shorts Brewing drink with the same name, released in June 2022.  
"The name Thirst Mutilator was inspired by a song on Strings' 2016 self-titled EP," My North News wrote following the drink's 2022 release. "Strings spent his early days in Northern Michigan playing the stage at Short's Bellaire Pub and the brewery's 10th Anniversary Party in 2014 before packing up and heading to Nashville."
Played one of the first times at an early Park Theatre show in Michigan April 22nd, 2016, "Thirst Mutilator" is in one way a completely unique song–immediately recognizable from its first note–and in another way it captures the tapestry of genres and exciting styles featured nightly in Billy's live playing.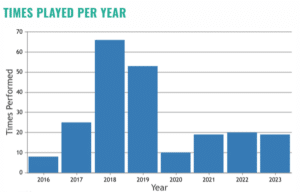 With all its eccentricity being a picking delight and a launchpad for the sublime, it's no wonder the song has been played at least 220 times since its debut, according to BillyBase.net. (Editor's note: while BillyBase aims to be comprehensive, many early set lists are unconfirmed or unknown, meaning the song play count is likely off and in this case, even the debut play date is unconfirmed.) 
Standing just shy of three minutes for the studio release on his 2016 self-titled EP, it is the second song and the first original studio track we hear from the solo-career charting Billy Strings.  (The 2016 EP will receive its own "Billy &" in the future.)    
The shortest live version on record is 2:00 on Jan. 31, 2018 at Carnegie Library Music Hall in Munhall, PA, 15 minutes outside of Pittsburgh.  The guys were opening for Greensky Bluegrass—a band every Billy fan should know because of Billy's close relationship with them and their integral role in Billy's early career.  The song appeared in the six slot out of nine total in the single set; notable, is its feature in an old-school "Dust" > "Thirst" > "So Many Miles" package.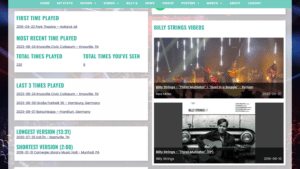 The longest version came night 8 of 9 during the July 2020 Streaming Strings Tour, standing at 13:31.  It was part of a non-stop opening segment that transported over 40 minutes of the first set — "End of the Rainbow" > "Thirst Mutilator" > "Dust in a Baggie" > "So Many Miles."  
Nowadays fans are lucky that "Thirst" still pops up regularly in set lists and can be a flat-picking party and a catalyst for awe-inspiring and genre-bending original music.  During any live show, the crowd is sure to catch Billy taking a swig off his non-alcoholic sparkling beverage.  The song, the title, this phrase is forever part of the Billy lexicon and a refreshment in any form.